Welcome to Pelagos Studios
PELAGOS STUDIOS IN PARIKIA PAROS
Our focus is your comfort and tranquility
Pelagos was created with the idea of providing its guests with an atmosphere that would be beautiful in its visual splendor as well as providing all the comforts for our guests. We combined the Friendly, hospitable energetic atmosphere of Greek tradition, with the meticulous quality standards of cleanliness, customer satisfaction and service. These two elements together enable us to provide our guests with all the comforts and extras they now expect when they come to Pelagos.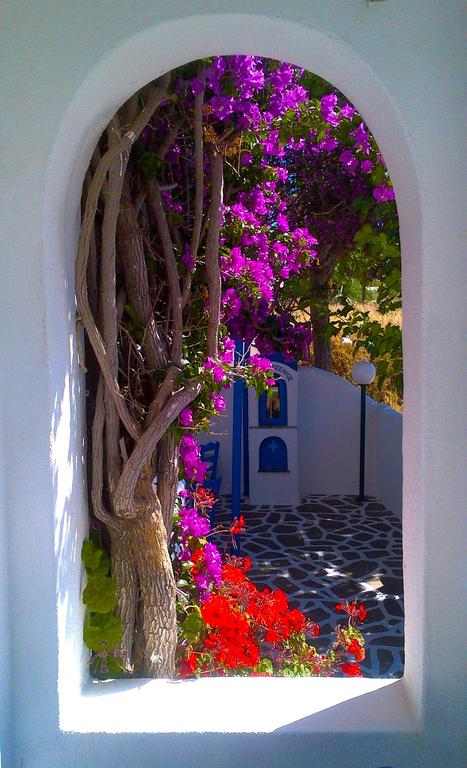 Very impressed with the quality and Standards of the rooms. Your whole family were extremely courteous and helpful. After traveling staying in different accommodations we agree that the beds were SUPERB! We thoroughly enjoyed our stay. Thank you!

To Bill and John and all the Wonderfull people at Pelagos Studios. We thank you for the hospitality. I want to let you know that food and wine taste much better with good company and excellent hosts! Thank you.

Probably one of the best guest houses I've stayed at. Bill you certainly know your stuff. The food was great and the bedroom excellent. Many thanks to you and your wife.
Traditional Cycladic Architecture.
Awash in blue and white your room is designed to surround you with Aegean beauty and give you a feeling of cool and relaxing peace. All Studios are designed to give our guests everything they need for a comfortable stay. All the rooms are equipped with private bathrooms/ shower, television, full kitchenette, private balconies, air conditioning and wi-fi. Our guests can also enjoy our flower covered outdoor terrace.
Paros's charm lies in its diversity.
If you prefer a quite peaceful holiday filled with nature and traditional Greek atmosphere, Paros offers you Serene landscapes with fertile valleys and rolling hills that are dotted with small churches and monasteries, endless sandy beaches, sparkling blue waters and picturesque traditional villages.
If you love History, Paros is full of famous monuments as well as festivals commemorating periods in their past.
If you prefer the nightlife Paros can accommodate you as well with many clubs, bars and charming Tavernas.

No wonder it has been voted "Best Island in Europe".